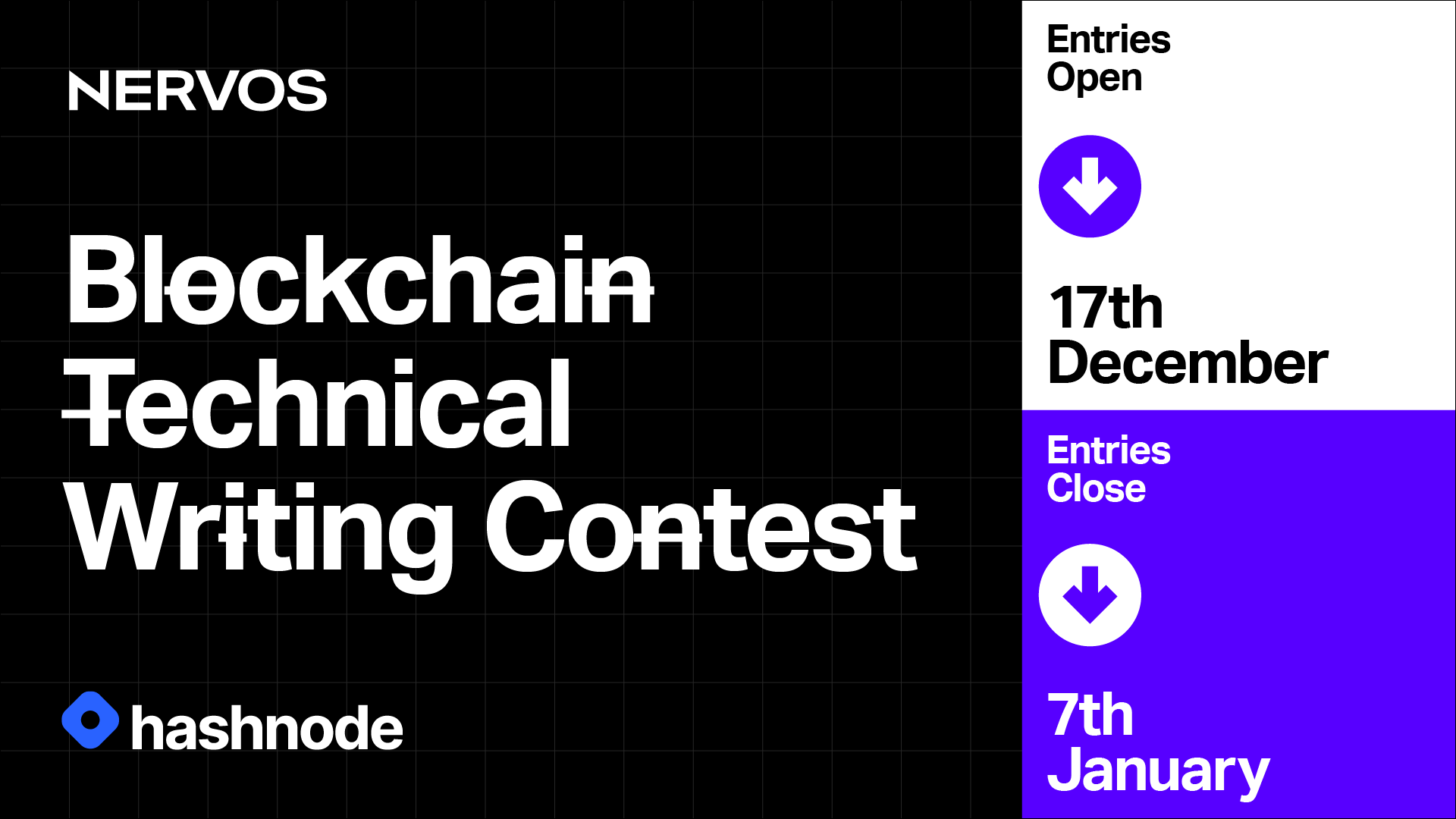 Friday, December 17, 2021 - 12:00pm

to

Thursday, January 6, 2022 - 12:00pm
Nervos Network with the support from Hashnode is ecstatic to announce a blockchain-themed essay competition running from December 17th to January 7th!
Submissions Now Closed
The web3 world is experiencing a great need for skilled communicators to spread the word about blockchain tech and web3. We invite experienced professionals and fresh talents alike to participate in our technical writing contest for a chance to win cash prizes in crypto and be featured on the official Nervos Network Blog and Nervos Community Development Site!
RULES & SPECIFICATIONS:
Entries must be written between December 17th - January 7th.
All entries must be in English.
Only one submission per category can be made per participant.
Participants from anywhere in the world are welcome.
Submission must cover any of the topics below.
Recommended word count range:
800-2000 words (1 page single-spaced / 2 pages double-spaced - 4 pages single-spaced / 8 pages double-spaced)
All submissions must be written on Hashnode, the superior platform for technical blogging!
Hashnode is a FREE platform for personal blogging and technical writing.
It's easy to create an account on Hashnode! Get started here: https://support.hashnode.com/docs/create-personal-blog
Hashnode uses Markdown editing, here is a helpful guide to get started: https://support.hashnode.com/docs/markdown-guidelines
Check out other web3 technical articles on Hashnode for inspiration: https://hashnode.com/n/web3
HOW TO SUBMIT:
All submissions must be made on Hashnode
Submit links to Hashnode blog entries through through the submission form below by January 7th (your local time)
Must cover one of the following topics:


General Category:

What is Layer 2 blockchain?
Data Structures & Algorithms in Blockchain Tech
The Blockchain Trilemma
Blockchain Interoperability
Scaling Blockchain Tech
The Current State of Rollup Technology
How do payment channel networks work
and anything else, as long as it relates to blockchain tech!


Nervos Network Category:

CKB Tokenomics Simplified
Why is Nervos Network the next big Defi ecosystem?
Nervos Network is Uniquely positioned to ...?
The UTXO Model, Both Complicated and Powerful
UTXO model vs. Account Model
and anything else, as long as it relates to Nervos Network!


Tutorial Category (General or Nervos Network topics welcome!):

Overview of How to Run a dApp on Nervos - similar to this
How to Yield $YOK with $CKB
Project-based decentralized app tutorials
Minting your first NFT on Kollect
and anything else, as long as it's a blockchain tech tutorial!
PRIZES:
Prize money will be rewarded in $CKB!
Please have a CKB-compatible crypto wallet address prepared for your reward.

General Topics Prize:

First Place Prize: $1000
Second Place Prize: $500
Third Place Prize: $250


Nervos Network Topics Prize:

First Place Prize: $1000
Second Place Prize: $500
Third Place Prize: $250


Tutorial Topics Prize:

First Place Prize: $1000
Second Place Prize: $500
Third Place Prize: $250
If you are new to $CKB, check out this guide Getting Started with $CKB to learn how to open a $CKB address to claim your rewards.
About Nervos Network:
The Nervos Network is a cutting-edge, multilayer public blockchain network designed to enable multi-chain interoperability while solving the blockchain trilemma (decentralization, scalability, and security).
Nervos Network's foundational Layer 1, stores digital assets with the $CKB token and provides arbitration for upper-level layers, all built on a flexible and powerful UTXO model.
It's first Layer 2 features an EVM-compatible platform, Godwoken, built on top of an optimistic roll-up was released in 2021. Godwoken offers developers EVM support with lower fees and faster transactions while benefiting from L1 security.
Through Nervos Network, blockchain developers can deploy an endless number of future-proof, scalable, and secure decentralized apps with the tools they love, the speed they need, and affordable fees.
About Hashnode:
Hashnode is a free blogging platform for developers who want to plug into the global dev community while retaining ownership of their content and domain.
It's the best of both worlds: you own what you create without the hassle of building it all from scratch, and Hashnode connects you with your future biggest fans who are waiting to discover you.
Start your blog and join the global dev community on Hashnode today!
Learn more about Hashnode