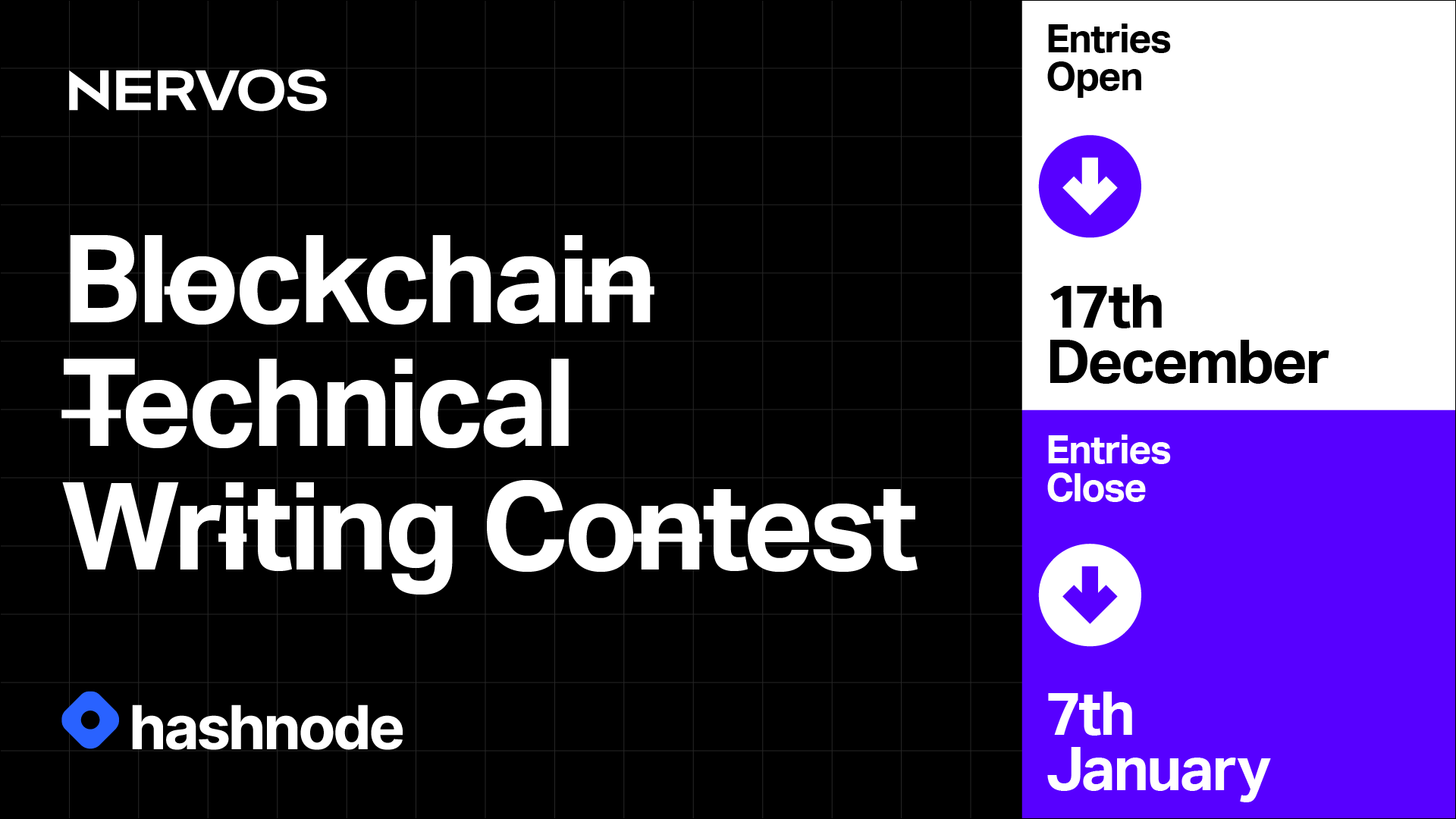 Friday, December 17, 2021 - 12:00am

to

Friday, January 7, 2022 - 12:00am
Nervos Network, along with the help of Hashnode, are pleased to announce the winners of our latest Blockchain Tech Writing Contest! 
Blockchain tech is taking the tech industry and world by storm as interest in NFTs, decentralized finance, the metaverse, layer 2 solutions, and more, drive the demand for blockchain tech literacy up.
In result, the web3 world is experiencing a great need for skilled communicators and technical writers to spread the word and educate others about blockchain tech and web3.
The Developer Relations team here at Nervos received an astonishing number of impressive submissions! We thoroughly enjoyed going through each and every essay with great care, consideration, and appreciation.
Therefore, we want to express our deepest thanks to every one of our community members who participated. 🙏
Third Place: $250 prize in $CKB
Second Place: $500 prize in $CKB
First Place: $1000 prize in $CKB
General Topics: What is Layer 2 Blockchain? by Emmanuel Awosika
While blockchain technology holds several benefits for economic activities, one factor continues to stem its widespread acceptance: scalability. Scalability is what Ethereum founder, Vitalik Buterin, calls a component of the "blockchain trilemma."
Nervos Topics: CKB Tokenomics - A Different Model by Olasoji Amujo
The Nervous Network, a structured public blockchain biome, is aimed squarely at solving the key problems with the Bitcoin and Ethereum blockchains.
Tutorial Topics: Working with NFT on Nervos Network by Dima
The easiest way to interact with NFT on Nervos Network is to use an API built by Nervina Labs company. The team developed really powerful and simple-to-use service called Mibao, which allows developers (and as a simple user using UI) to avoid deep dive into blockchain low-level stuff. All you need as usual is to get API KEY to get access.
If you are a winner listed above, the Nervos team will be in contact with you!
Congratulations to all the winners of our technical writing contest!
The Nervos team gives our warmest thanks to all of the participants, and looks forward to having you in the CKB community.
About Nervos Network:
The Nervos Network is a cutting-edge, multilayer public blockchain network designed to enable multi-chain interoperability while solving the blockchain trilemma (decentralization, scalability, and security).
Nervos Network's foundational Layer 1, stores digital assets with the $CKB token and provides arbitration for upper-level layers, all built on a flexible and powerful UTXO model.
It's first Layer 2 features an EVM-compatible platform, Godwoken, built on top of an optimistic roll-up was released in 2021. Godwoken offers developers EVM support with lower fees and faster transactions while benefiting from L1 security.
Through Nervos Network, blockchain developers can deploy an endless number of future-proof, scalable, and secure decentralized apps with the tools they love, the speed they need, and affordable fees.
About Hashnode:
Hashnode is a free blogging platform for developers who want to plug into the global dev community while retaining ownership of their content and domain.
It's the best of both worlds: you own what you create without the hassle of building it all from scratch, and Hashnode connects you with your future biggest fans who are waiting to discover you.
Start your blog and join the global dev community on Hashnode today!